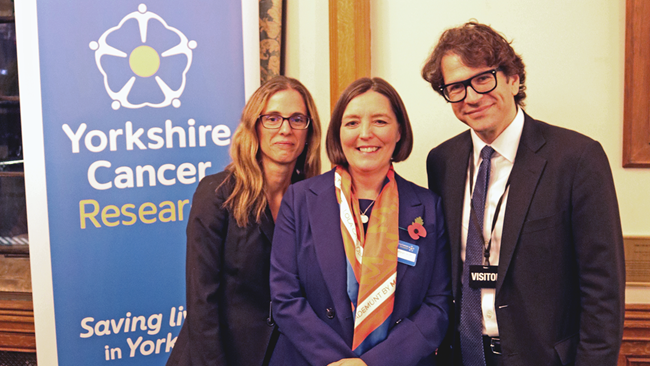 (from left to right): Elianna Konialis, SNF Health Initiative Grant Manager; Dr. Kathryn Scott - Chief Executive, Yorkshire Cancer Research; Panos Papoulias, SNF Chief Operating Officer - Photo: Yorkshire Cancer Research
On November 8, 2023, SNF representatives attended a supporter event organized by grantee-partner Yorkshire Cancer Research at the Palace of Westminster in London. The event aimed to raise awareness and inspire informed action around cancer outcome inequalities within Yorkshire as well as compared with other parts of the UK. According to data shared by Yorkshire Cancer Research, people in Yorkshire are more likely to get cancer and more likely to die of cancer than those almost anywhere else in England. The event also served to highlight ongoing efforts by Yorkshire Cancer Research to address these inequalities, including through research and programs funded by the charity which seek to help prevent, diagnose, and treat cancer in the region.
With SNF's support as part of its Global Health Initiative (GHI), Yorkshire Cancer Research is expanding its Active Together service, a pioneering fitness, nutrition, and wellbeing program for people with cancer, which builds upon a growing body of evidence suggesting that physical activity before, during, and after treatment can significantly reduce side effects, support recovery, improve survival, and reduce the risk of recurrent cancer.
The expanded program, launched in November 2023, builds on the success of the charity's existing Active Together service in South Yorkshire and now serves communities in North and West Yorkshire, including Leeds, and individuals with all types of cancer. Yorkshire Cancer Research's new facility in Harrogate, formally opened in October 2023, houses the organization's new headquarters as well as the new Active Together service, a café and fundraising store.
While visiting the UK for the event, SNF representatives also visited additional program sites in Yorkshire and connected with program staff that deliver lifesaving screening for lung cancer and other services.
The charity estimates that the expanded Active Together program will benefit up to 1,500 cancer patients in the first three years. The program is also expected to widen the evidence base for exercise oncology regimes.